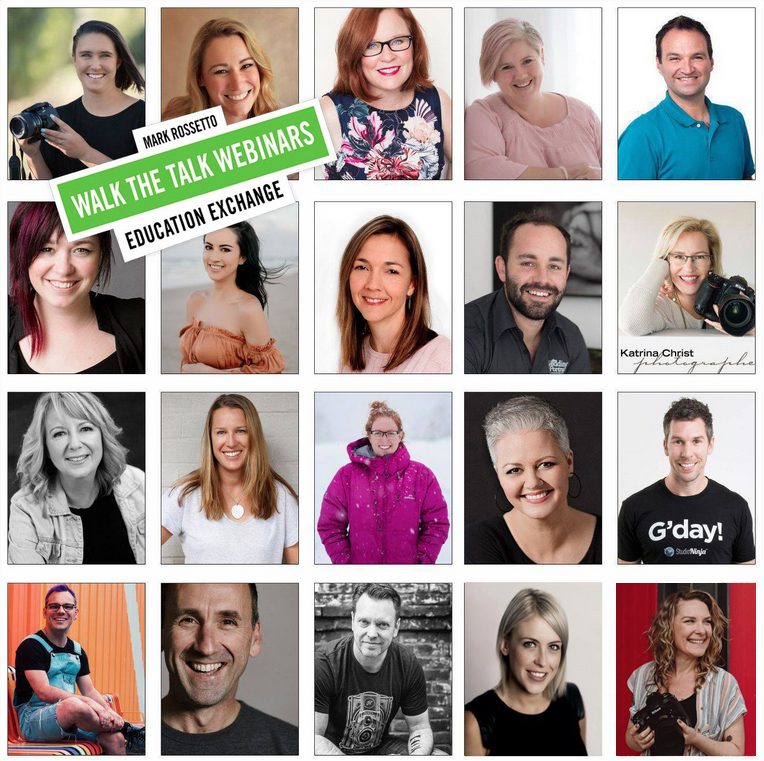 Welcome to the webinar series called "Walk the Talk Webinars"  These webinars have been designed to be practical, to the point and bite size education on business topics such as software programs (Fundy, Proselect, Animoto, CRM's, FB ManyChat, etc) and specific business and photography skills set (IPS online, retouching, phone calls, SEO, Website layout, suppliers, etc) In these webinars Mark will arrange some of the best photographers and suppliers in Australia and around the world to give these presentations.
All webinars will be using the program called zoom. You will need to download the program on your computer or device. Make sure you register for the event to join the meeting room. 
Please note: You will be on camera (unless you turn it off) all sessions are recorded and only 100 people will be allow at the live webinar. First in best dressed one the day.
This is going to be so much fun and I hope we see you at the next Webinar!
To stay up-to-date with all the latest Webinars and upcoming events, join Mark's Facebook Group – https://www.facebook.com/groups/ppbnonline
Please Note: The time's below are Australian Eastern Standard Time (AEST) please check your time zone for the correct date and time depending on where you live: https://www.worldtimebuddy.com/
Walk The Talk Webinars Are Back in 2022...
Past Walk the Talk Webinars
Education Exchange – 30 days of FREE business education
Back in April 2020 we ran a special webinar series called the Education Exchange. It was 30 days of Free business education. Due to the Corona-virus we were all be forced to put our client facing photography business on hold… But there was nothing stopping us to use this time to up-skill and educate ourselves. This was the prefect time to work on your business and not in your business. When it was all over I wanted to make sure you hit the ground running on the other end.
These webinars took place EVERY weekday from 1st April 2020 until the 1st May 2020. At 9:30am Brisbane AEST.
We had over 500 photographers register and between 70-100 people per day. It was a huge success and I want to thank all the speakers who gave up there time for us all and all the participants who attended the zoom meetings.
Here are the topics and speakers: 
Wednesday 1st – IPS Online with Sarah Mounsey
Thursday 2nd – How to create videos for marketing and your website with Natarsha March
Friday 3rd – SEO growth hacks you can implement today with Kylie Garner
Monday 6th – Tave' Set up, workflow, hints and tips with Kate Buechner
Tuesday 7th – FB Bot automation using Manychat with Iain Sim
Wednesday 8th – Creating room views for client galleries, websites and print collatroal to Sell more wall art with Karina Wells
Thursday 9th – Shoot and Sell Ipad App to sell wall art with Tanha Basile
Friday 10th – Good Friday
Monday 13th – Easter Monday
Tuesday  14th – Graphic Design, branding, colour and creating marketing materials with Susanna Rossetto
Wednesday 15th – The Power of Proselect, everything from input to High res output with Brenton Spiteri
Friday 17th – 25+ Years Resilience in business with Carol Gibbons
Monday 20th – Think outside the square to standout with drone and underwater photography with Lisa Ivandich
Tuesday 21st – Learn to grow your presence on Instagram with Lauren Bath who has 442K Followers!
Wednesday 22nd – Concept, create, capture and print – Personal projects with Kelly Brown
Friday 24th – Studio Ninja – How to create the ultimate automated CRM workflow with Chris Garbacz
Monday 27th – Find your style and learn how to stand put in the crowd with Craig Turner-Bullock
Tuesday 28th – FaceBook – Retarget to your audiance with Andrew Hellmich
Wednesday 29th – Tiktok your audience with Ashley K
Thursday 30th – Sell bigger albums and wall art, create better marketing materials with Andrew Funderburg CEO of Fundy
Friday 1st May – Mark Rossetto "The Game Plan!"