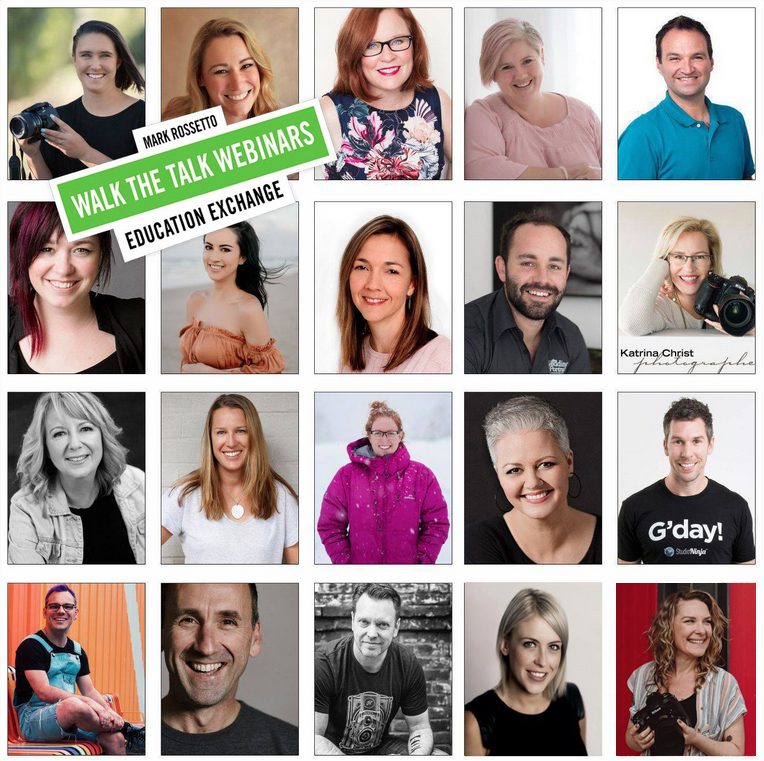 Welcome to the webinar series called "Walk the Talk Webinars"  These webinars have been designed to be practical, to the point and bite-size education on business topics such as software programs (Fundy, Proselect, Animoto, CRM's, FB ManyChat, etc) and specific business and photography skills set (IPS online, retouching, phone calls, SEO, Website layout, suppliers, etc) In these webinars Mark will arrange some of the best photographers and suppliers in Australia and around the world to give these presentations.
You will need to register for any up-and-coming webinars. If you can't make it it will be sent to you as a recording within 48hours. But try and make the live so you can ask questions and have an open Q&A conversation.
This is going to be so much fun and I hope we see you at the next Webinar!
To stay up-to-date with all the latest Webinars and upcoming events, join Mark's Facebook Group –https://www.facebook.com/groups/ppbnonline
Please Note: The time's below are Australian Eastern Standard Time (AEST) please check your time zone for the correct date and time depending on where you live: https://www.worldtimebuddy.com/
Walk The Talk Webinars in 2022...
Walk The Talk Webinars in 2021...
Walk The Talk Webinars in 2020...
Education Exchange – 30 days of FREE business education
Back in April 2020 we ran a special webinar series called the Education Exchange. It was 30 days of Free business education. Due to the Corona-virus we were all be forced to put our client facing photography business on hold… But there was nothing stopping us to use this time to up-skill and educate ourselves. This was the prefect time to work on your business and not in your business. When it was all over I wanted to make sure you hit the ground running on the other end.
These webinars took place EVERY weekday from 1st April 2020 until the 1st May 2020. At 9:30am Brisbane AEST.
We had over 500 photographers register and between 70-100 people per day. It was a huge success and I want to thank all the speakers who gave up there time for us all and all the participants who attended the zoom meetings.
Huge THANK YOU to all the speakers for your time and effort and thank you to all those who turned up and attended the education exchange. 
Walk The Talk Webinars in 2019...
Walk The Talk Webinars in 2018 ...