This is the workshop you have been waiting for! 8 hours of pure photography marketing, all designed to get your phone ringing with qualified and quality leads, who are excited about you and your photography business. This is all achieved through great client education, understanding the psychology of sales, client buying cycles and giving the right information at the right time. We will go through 100 marketing ideas and you'll walk away with a 12 month marketing plan to set yourself up for 2018! This is YOUR year!
This 1 day workshop will be presented by Master Photographer and Business Coach, Mark Rossetto. Mark built and ran one of Melbourne's most successful portrait studios, photographing approximately 500 clients per year.
This practical, content-packed workshop is designed for any photography business professional in any genre, style and location around the world. The marketing techniques and psychology of sales are tested and proven over 10 years. They are transparent, honest and are all customer focused to increase client education and to give you great quality leads, not just numbers and empty enquiries.
With so many photographers in the one room learning the same marketing skills and strategies, won't we all be doing the same marketing to the same people?
No! That's the best thing about this workshop. It's not just one marketing strategy over and over again, it's 100 marketing ideas! You might want to go down the blogging direction, while others do 3rd party, expos or portrait parties. Not to mention Facebook ads, google re-target marketing, schools, mini sessions, or one of the other 92 marketing ideas we will go through. Most successful studios have at least 5 – 10 marketing ideas happening at any one given time.
Expression of interest
If you are interested in do the workshop or if you're in a location and would like me to run a workshop in your area, please let me know. Contact Mark Directly on mark@markrossetto.com
Locations & Dates
Click on the Location you would like to attend to buy your ticket.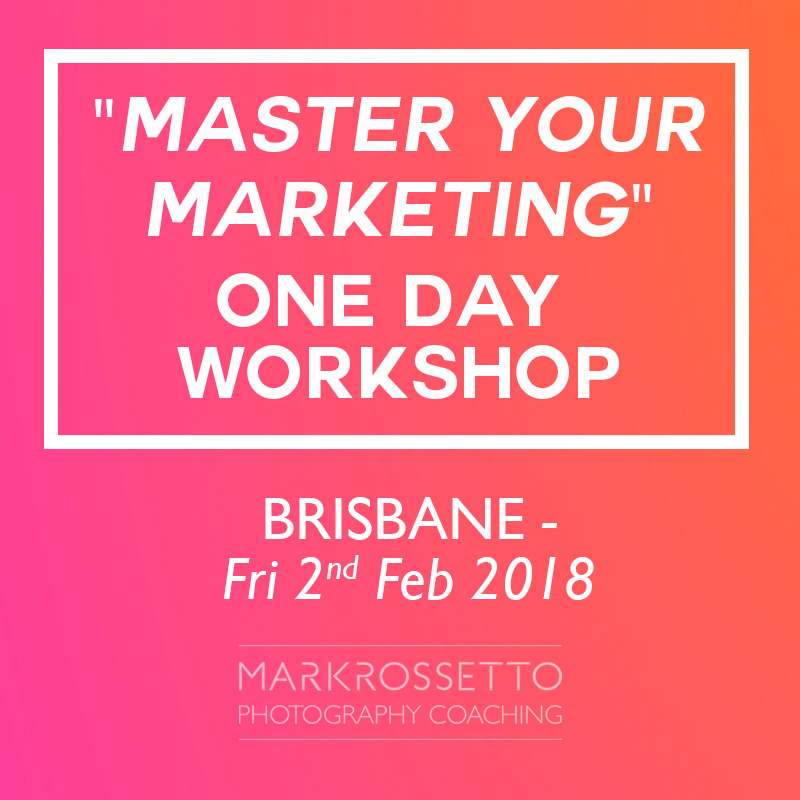 Redcliffe – Newport, Mark's Studio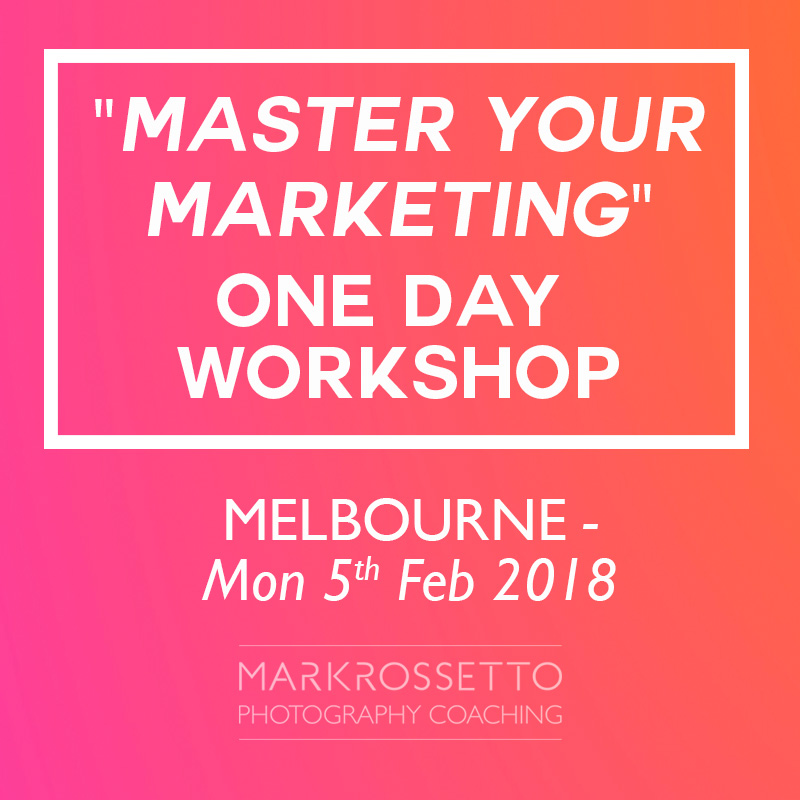 Brighton Savoy – 150 Esplanade, Brighton VIC 3186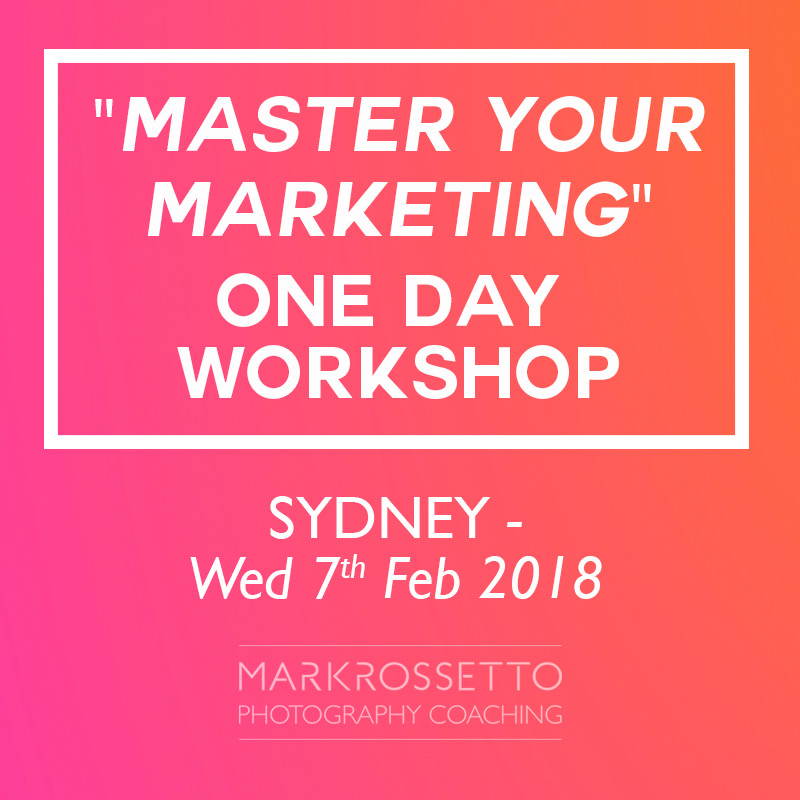 Uber Photography – Level 1, 768 Pacific Highway, Gordan 2072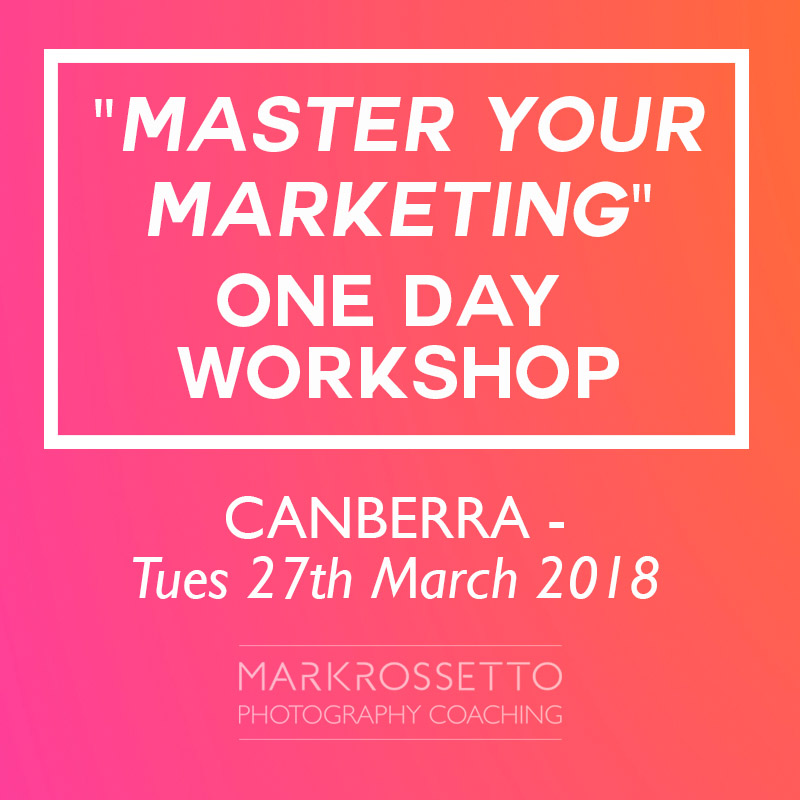 U8 Molongolo Mall, 105-119 Newcastle st Fyshwick, Canberra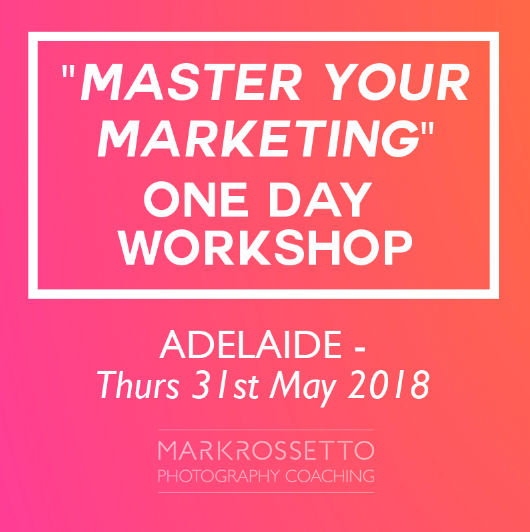 144-146 Springbank Road Torrens Park SA 5062
Workshop Description
Using the genre and style you already have, you will learn the art of client education from the first phone call all the way to ordering the artwork. Increase your average orders and have a greater consistency and predictability in your photography studio.
​Psychology of sales and marketing
Understanding the clients buying cycle (why and when people buy)
Whats the difference between Session Fees Vs Gift Vouchers
Look at the different business models to suit you, your family and your lifestyle
Time over effort and what that means to your business
100 Marketing ideas!!!
Passive and Active Marketing
Silent Ninja Marketing
How to create and understand your 12 month Marketing plan for 2018!
Why knowing your numbers is so important for your future marketing plans
…and so much more!
​Please note: This workshop is 100% marketing related, without any fluff. You'll be learning methods to set your business and marketing up for the greatest chance to be a successful photography studio in 2018.
Workshop Investment
Workshop Fee: $950 AUD per person. (Valued at over $2250!)
PayPal: Click on the city where you'd like to attend on the links above. This will take you to the online store. Pay in full or a minimum 50% deposit is required to confirm your booking. Remainder 50% is due 14 days prior to workshop (50% payment coupon code is "mrw2018" – type in at payment gateway through PayPal).
Direct Transfer: Pay in full or a minimum 50% deposit is required to confirm your booking. Remainder 50% due 14 days prior to workshop.
Account Name: Mark Rossetto, BSB: 063 220, Acc: 1014 1124, Ref: Your Name
BOOK YOUR SEAT FOR ONLY $250 UPFRONT – Payment Plan option:  I want to make sure that this workshop is open to everyone and not let finances stop you from coming. We can set up a payment plan for you. Simply pay a deposit of $250 to hold your spot. ($250 payment coupon code is "mrw2018p" – type in at payment gateway through PayPal). T's and C's apply. Once payment is made Mark will contact you directly.
Attendees: Workshops will be limited numbers depending on location, so book in ASAP before your competition does!
What's included
Lunch and refreshments will be provided each day
Workshop booklet
Marketing forms, templates and worksheets
Trade partners and sponsors discounts
What's NOT included
Transport and accommodation to your chosen workshop is not included.
What to bring
Your studio marketing collateral (brochures, flyers, booking letters, price list, booklets, etc. For you to refer to throughout the day)
Comfortable clothing
Drink bottle and snacks
Notepad and pen
An open mind and a smile
​Testimonials – Read what others say about Marks coaching and workshops.