Industry & Networking Evening with Guest Speakers
Join us for an Industry and Networking Evening with four brilliant guest speakers plus our sponsorship partners – Brilliant Prints, Seldex, The Photographers Toolbox, Kayell, Bespoke Packaging and Nikon. The evening is designed with you – the photographers in mind, to meet the suppliers and to get your hands on some of the industry's best photographic products in Australia. You'll also hear from four guest speakers from different genres and stages in business, who are not only brilliant photographers but also successful business owners.
This event is going to be an epic night with lots of fun and laugher, plus some business talk too. It's going to be a cocktail style event and includes two drinks and also canapes throughout the evening.
Each speaker and supplier will have only 10 minutes on the clock to share on a topic that they specialise in and are passionate about, so it's going to be quick, informative and entertaining at the same time.
Our suppliers are donating over $1000 worth of amazing door prizes for products and services and I'm sure there will be more to come. So please invite your friends in the industry, partners are welcome too and let's make this a great night to remember!
Date: Monday 29th July
Time: 6pm – 9pm (bar open till late)
Dress: Smart Casual
Location: Novotel Brisbane Airport. 6-8 The Circuit, Brisbane Airport QLD 4008
Parking: DFO is free or in the Novotel for $10 per car
Website: www.novotelbrisbaneairport.com.au
Whats included: Tradeshow, speakers, two drinks, canapes, networking and over $1000 worth of door prizes!
Cost: $30 per person
Numbers are limited to the first 75 people only, so book in quick!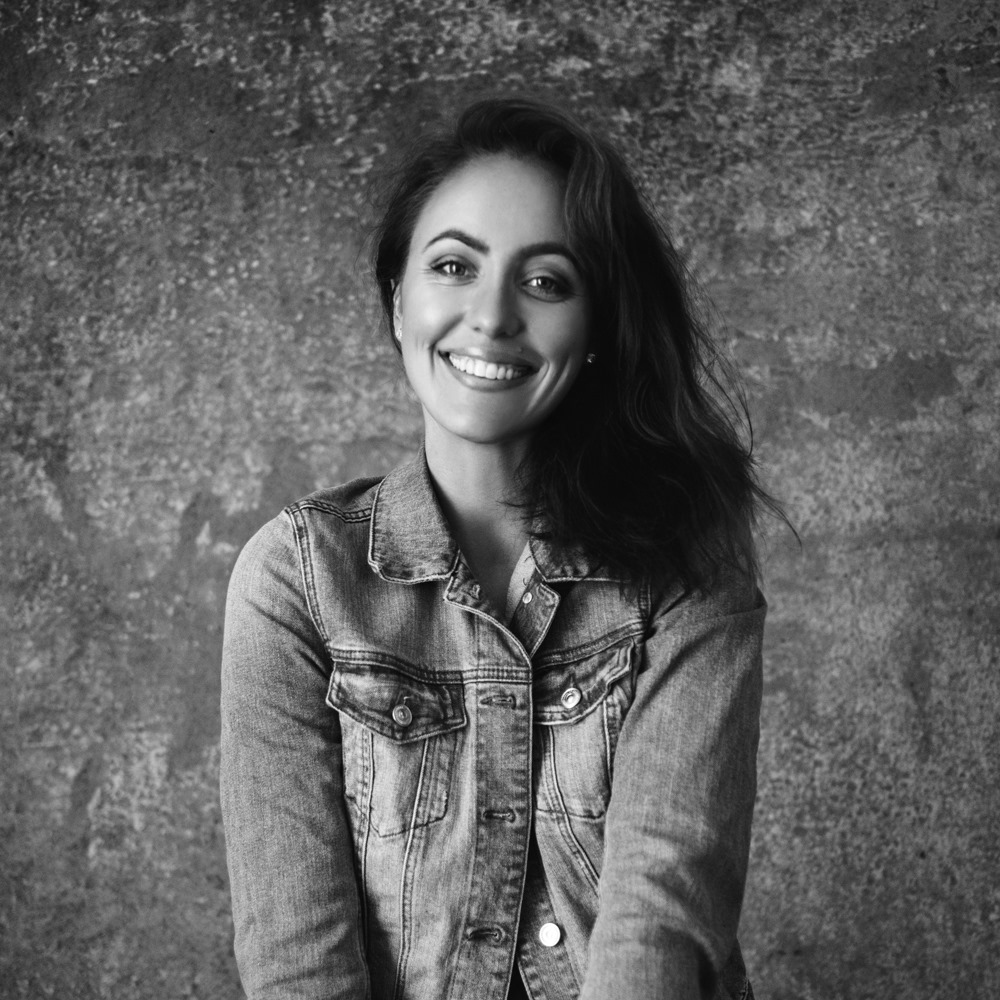 Stephanie Bowers – The Do's and Don'ts of Boudoir Photography
Stephanie Bowers has been a professional photographer for over 8 years. She is a multi-award-winning photographer across Australia. Stephanie has become renowned across Australia for producing tasteful, timeless and stunning boudoir photographs for everyday women. She has produced imagery for book covers for New York Times best-selling authors, has been published in the Huffington Post, and features on the cover and a 50 page spread in the May 2017 issue of f11 Magazine. She's also been published internationally in the launch editions of Boudoir Inspiration's Volume 1 magazine and special B&W edition.
Website: stephaniebowers.com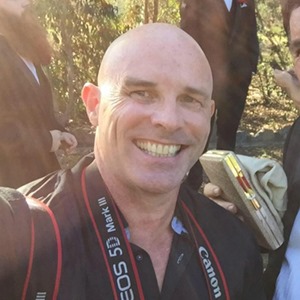 Ben Clark – 5 ways to stand out from the crowd
Ben has been one of Brisbane's leading wedding photographers for over a decade, photographing over 800 weddings Australia wide and overseas. Just like every genre, more and more people are calling themselves photographers and trying to make their way into the market, so it's important to keep up with the industry and make sure you are top of mind and on top of your game at all times. Bens relaxed and cheeky personality, passion for the wedding industry and brilliant photography makes for a fun wedding day and super happy clients.

Website: benclarkphotography.com.au
Natarsha March – Revamp Your Video
Natarsha spent over 15 years as a TV video editor and producer with TVNZ, Channel 9 and Channel 10 and now she is here to share some of the best, simple tips for creating professional videos using free software. She's covering what to include and what to cut, how to make your own content and what small touches will make your home-made video look professional and stand out from the crowd. With video taking over social media, this talk could be a game-changer for your business.
Website: brisbanenewbornphotography.com.au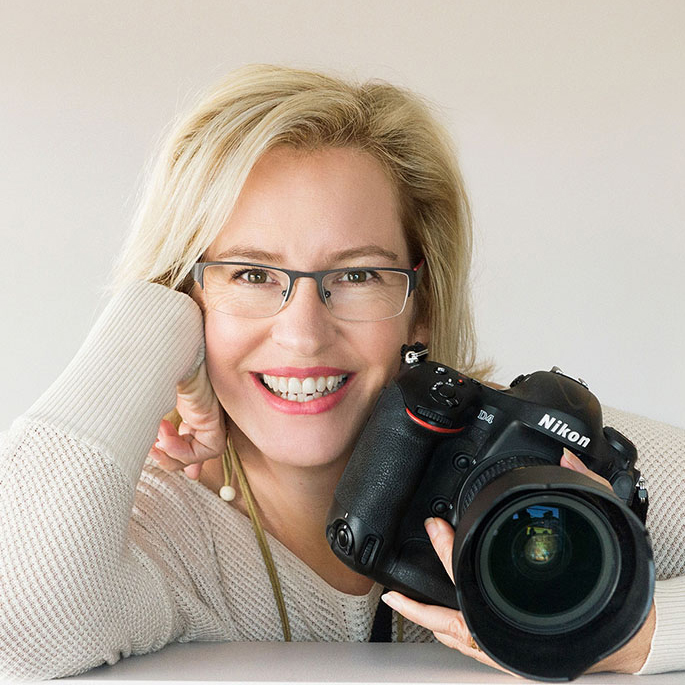 Katrina Christ – How to create a sustainable business
When you meet Katrina for the first time, you'll just fall in love with her and her bubbly personality. Katrina has over 25 years in the photographic industry and is a master photographer. Her passion is people, her aim is to create a photography session where you can really connect with each other and she will make sure she captures that. Over the past 25 years, the industry has changed dramatically and Katrina has stayed on top of the game all the way through. You're going to hear some great hints and tips on how to create a sustainable business to stand the test of time.
Website: katrinachrist.com.au
We have some of our favourite sponsors from the Australian photographic industry coming to the event. This is a great opportunity to meet them face to face and be able to pick up and hold the products, which is much easier than over the internet or in the magazines. They will also have special offers and door prizes on the night, so make sure you come on down. Click on the logos to go straight to the websites.
Shooting For Success – Full Day Workshop
It's all too common these days to hear phrases like "I can't find the right clients" or "you live in a better area than me", or even "you're just so lucky you have good clients all the time". But I can assure you that clients are made, not found! Client education is key to understanding your true value.

As always this practical, content-packed workshop is designed give you the tools and strategies to help educate your clients through the entire client experience to generate bigger sales and set yourself up for the win… without needing to be all hardcore salesy. The workshop will cover from the first enquiry all the way through to helping the client purchase their artwork. Mark will be giving you the roadmap to success, and cover each step of the way. Whether you're selling online files, transitioning into IPS or already have a well-oiled structured IPS model, I guarantee you will get lots of light bulb moments throughout the day.
This is all achieved through great client education, understanding the psychology of sales and the client buying cycles, and by giving the right information at the right time. It doesn't matter if you're a seasoned professional or just starting out in your photography journey – all of the techniques taught are proven and tested over 10 years, not only within Marks own photography business but also with 100's of other businesses around the world. They are transparent, honest and customer focused to give you the best opportunity to sell your artwork without having to sell at all.
This is a practical, content-packed workshop that is designed for any portrait photography business professional in any genre, style and location around the world. It will be presented by Master Photographer and Photography Business Coach, Mark Rossetto. Mark built and ran one of Melbourne's most successful portrait studios, photographing approximately 500 clients per year.
We want to make sure that this workshop is open to everyone and not let finances stop you from coming, so we can set up a payment plan for you. The best part about this is that you can implement the training and make payments after the workshop.
Limited to 12 people only!
Monday 29th July 6pm – 9pm
Novotel, Brisbane Airport
$30 per person
Only 2 spots left (This will book out!)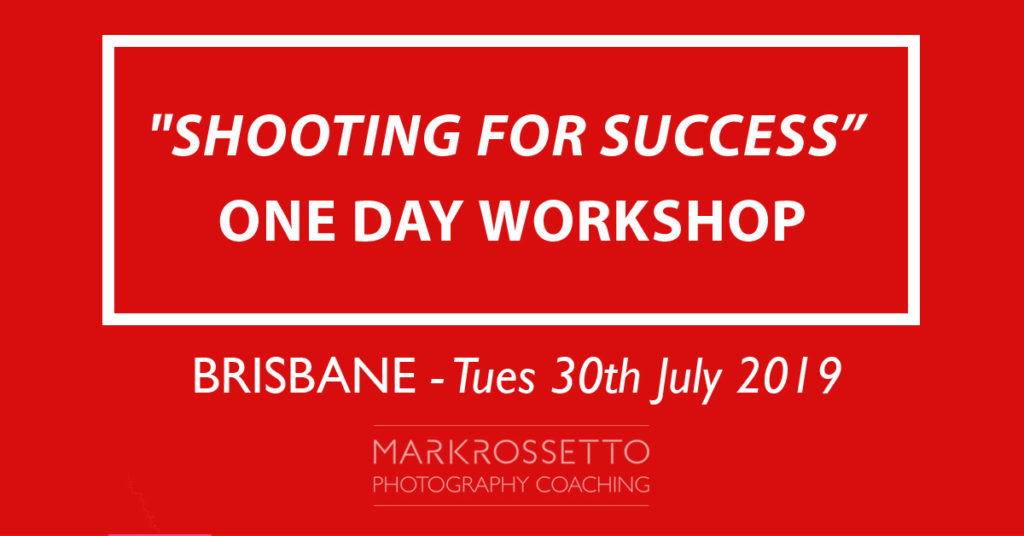 Tuesday 30th July 9am – 5pm
Novotel, Brisbane Airport
$975 per person Early Bird Price
Limited attendees
Workshop Description
Using the genre and style you already have, you will learn the art of client education from the first phone call all the way to the order the artwork. Increase your average orders and have a greater consistency and predictability in your photography studio. It's all about How to increase the clients experience and give them great value and quality service. The workshop will cover:
Take a client through the whole client experience from Website to "How would you like to pay for that?"
Psychology of sales and marketing
Successful photography business models to suit you, your family and your lifestyle
Understanding the clients buying cycle (why and when people buy)
Advanced Website layout to increase client engagement
Create and develop a lead magnet to attached new clients
Get creative with a Social Media content planner
Mark's Key top 3 Passive and Active Marketing plans
Phone scripts that convert in 6 easy steps
Booking forms, Pre session planning & questionnaires – Why this is important and how to do it
Get specific and shoot with the end product in mind
Same day IPS (save time and save money)
Top 6 steps to a successful design consultation
Proven selling techniques and closing styles to increase your average sale
How to create and understand the benchmark standards for your studio and then take it to the next level
…and so much more!
Please note: This workshop is 100% business and marketing related, without any fluff. You'll be learning methods to set your business and marketing up for the greatest chance to be a successful photography studio. No shooting, posing or props will be used through out the day.
Date: Tuesday 30th July
Time: 9am – 5pm (With dinner afterwards)
Location: Novotel Brisbane Airport. 6-8 The Circuit, Brisbane Airport QLD 4008
Website: www.novotelbrisbaneairport.com.au
Workshop Investment
Workshop Fee: Early Bird Price $975 AUD per person. (Up until 3 weeks prior to the event normally $1450. Save $475)
PayPal: Pay in full or a minimum 50% deposit is required to confirm your booking. Remainder 50% due 30 days prior to workshop. (50% payment coupon code is "mrw2019" type in at payment gate way through PayPal)
Direct Transfer: Pay in full or a minimum 50% deposit is required to confirm your booking. Remainder 50% due 30 days prior to workshop.
Account Name: Mark Rossetto, BSB: 063 220, Acc: 1014 1124, Ref: Your Name (Please message Mark asap if you are doing this method of payment)
BOOK YOUR SEAT FOR ONLY $100 DEPOSIT WITH PAYRIGHT:  I want to make sure that this workshop is open to everyone and not let finances stop you from coming. We can set up a payment plan for you. Simply pay a deposit of $100 ($100 payment coupon code is "payright$100" – type in at payment gateway through PayPal).  Once payment is made Mark will contact you directly to set up your payright account within 48hours. Please note that extra fees apply.
Attendees: Workshops will be limited to only 10-15 attendees. (All previous workshops have sold out)
What's included
Morning tea, Lunch Afternoon tea and refreshments will be provided each day
Workshop booklet
Business and marketing forms, templates and worksheets
Trade partners and sponsors discounts (these are awesome, saving your $100's)
What's NOT included
Transport and accommodation to the workshop is not included.
What to bring
Your studio marketing collateral (brochures, flyers, booking letters, price list, booklets, etc. For you to refer to throughout the day)
Comfortable clothing
Drink bottle and snacks
Notepad and pen
An open mind and a smile
Testimonials – Read what others say about Marks coaching and workshops.