3 hours of FREE business education from some of the industry's best photographers and suppliers from around the world!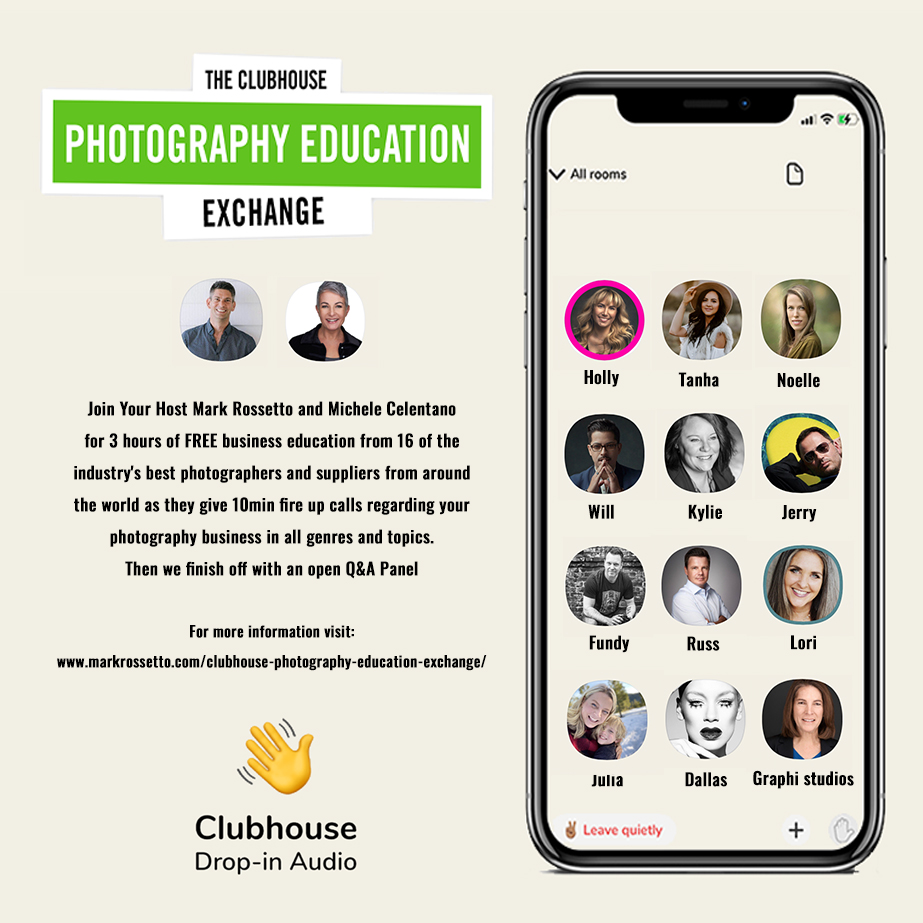 Welcome to the Photographer's Clubhouse MEGA ROOM!!! Your hosts Michele Celentano from the USA and Mark Rossetto from AUS, have pulled together 16 of the industry's best photographers and suppliers to have a 10min power chat on all different topics regarding your photography business in all genres and topics.
Why: Because we can. Clubhouse has created an opportunity for the whole industry to come together, share our years of wisdom and knowledge with photographers starting out and season professionals. Without having to leave your house or end get out of your PJ's.
Cost: It's FREE you would normally have to pay big bucks to hear such an amazing lineup at a conference and jump from room to room over a few days. There is no speaker or sponsorship fee. This is all for the love of the industry.
10 mins: Because we are here for a good time not a long time. Each guest will have 10 minutes on the clock to share on a topic that they specialise in and are passionate about, so it's going to be quick, informative and entertaining all at the same time. As we want to keep the room moving with an on-point topic and high energy. FYI – Mark has done this a few times with industry nights all across Australia and it's a hoot!
Who's invited: This is an open event so please make sure you click on the bell on the event link below so you don't miss out!
Where: Clubhouse – https://www.joinclubhouse.com/event/PvBwdoop
When: Tuesday 16th March (Aus) / Monday 15th March (USA)
Time: 9am AEST / 4:00pm PST / 5:00pm MST / 6:00pm CST / 7:00pm EST
Thank you: A huge thank you to all of our guest, our two hosts. Without your input, we couldn't make this happen. 
Schedule: Keep an eye on the schedule below for the guest name and the topic. At the end of the session, there will be an open Q& A to you get the chance to ask questions and connect with our guest.
FYI the Schedule below is in AEST…
9:00 – 9:10 – Intro your host Mark Rossetto & Michele Celentano
9:10 – 9:20 – Tanha Basile – Same Day IPS. Newborn Clients Walk-in at 9:30 am and finish at 12:30 pm and you just made a +$3,000 sale
9:20 – 9:30- Julia Kelleher – The Art & Science of Pricing: Get The Sale You Want With Every Client 
9:30 – 9:40 – Maureen Neises – Graphi Studios – How to Stand Out from the Crowd with Unique Products
9:40 – 9:50 – Andrew Funderburg – Fundy Designer – The power of a print-based studio
9:50 – 10:00 – Jerry Ghionis – Get ready to Roar in the Twenties!
10:00 – 10:10 – Dallas Logan – Lighting Emotionally
10:10 – 10:20 – Lori Nordstorm – Making Money from Model Calls
10:20 – 10:30 – Holly Lund – Creating timeless Fine Art Children's Portraiture for the Modern Home.
10:30 – 10:40 – Mark Rossetto – How to excite, delight and dominate your Market
10:40 – 10:50 – Will Cadena – Why Business Relationships Are The Key to Successful Growth!
10:50 – 11:00 – Noelle Mirrabella – Cassandra – Channeling Your Voice Through Storytelling Photography To Increase Brand Awareness
11:00 – 11:10 – Kylie Garner – How to be Remarkable on Social Media
11:10 – 11:20 – Michele Celentano – But… but… but… Stop Making Excuses and get out of your own way.
11:20 – 11:30 – Russ Jackson – Providing an exceptional customer experience that leads to repeat business, recommendations and beyond!
11:30 – 11:40 – Brandon Heiss – Westcott
11:40 – 11:50 – Jonny Edward – TBC
11:50 – until no more questions –  Open Q & A
If you have any questions at all please reach out to Mark at Mark@markrossetto.com or Michele at info@michelecelentano.co